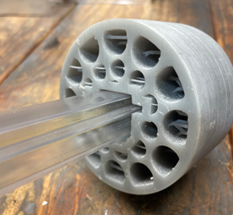 Saw or Servo Cutter?
3D Printed Solutions for Custom Extrusion Profiles
Have you ever wanted to qualify a servo cutter to determine if it would cut an extruded profile that has been traditionally saw cut?
Saws are a necessary machine to cut many rigid plastic extrusions. There are
however some instances where a servo cutter may do the job as well. 
What if you don't have a saw and you just need to qualify a new profile with your existing cutter? 
Success in either case is largely dependent on having correct cutter bushings. 
Custom extrusion profiles require custom solutions. If you do not have correctly designed cutter bushings, you will become frustrated quickly. Traditional methods to produce cutter bushings usually require aluminum, steel or stainless steel, with machining work and even wire EDM! This is expensive and time consuming. 
3D printing is changing how we can perform 'quick tests' on servo cutters with custom extrusions. It is lowering the costs, too. 
SLA 3D printer technology is robust enough to withstand most cutting forces, if properly designed. Due to the characteristics of SLA printing, you cannot just print a solid bushing with appropriate profile geometry. After the part is printed, SLA resins require an alcohol rinse and then UV curing. For the UV curing to work correctly, you need to have uniform wall thicknesses wherever possible. 
The CAD designer will have to find a solution for areas that are traditionally solid. A thoughtful honeycomb pattern usually does the trick. This also saves print time and cost with the expensive SLA resins. The honeycomb pattern can reduce volume by over 50% which directly lowers cost. Even better, this is fantastic entry level engineering work that can have a big impact.
Once the bushing is correctly designed in CAD, you can load the file into the 3D printer and return the next morning to their completion. Once rinsed and cured, some sanding may be required to achieve the perfect fit in the cutter housing. However, not much may be needed with a good 3D printer these days. 
Within 24 hours, you can perform a much better cutting test to determine the best way to cut your custom profile. In house 3D printed SLA bushings may only cost about $100, whereas a custom metal set can easily reach $1,000 or more. A 3rd party print shop may charge $300-$500 for SLA bushings. In some cases, it may be possible for the SLA bushings to hold up long enough for light production use, but that will surely depend on the exact application.
Not to be modified without written permission from Author:
Brandon Bell
Automated Manufacturing Systems
---