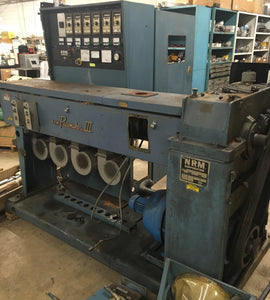 Blast from the Past! 1970's original NRM Extruder Controls
When was the last time you saw an NRM Plastic Extruder with ALL ORIGINAL electronics in working order? Check this machine sent to us from ParkOH for rebuilding! Originally purchased by Goodyear Canada in the 70's, the machine has worked its entire life producing automotive extrusions. This machine will feature a frame off restoration with one of the best extruder gearboxes made, all new electronics and will be used for extruding high quality tubing. 
The best thing about this machine is it contains a lot of original documentation which we will share with you in other posts! Do you need an old Red Lion manual or possibly some other hard to find documentation? AMS has a library full of extrusion manuals, prints and literature available. 
---