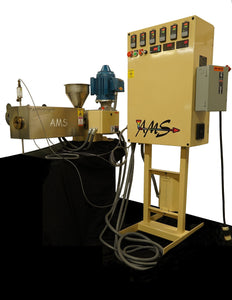 Extruding in tight spaces? Tri-Layer extrusion? 3D Printing on large scale?
AMS builds extruder assemblies capable of being mounted in tight spaces, and light weight. Electrical cabinets can be floor or wall mount. Custom cable lengths available. 
Pictured is a AMS-KL Extruder designed to be mounted two stories in the air, on a mezzanine. The extrusion flows down, using gravity to its advantage. 
---