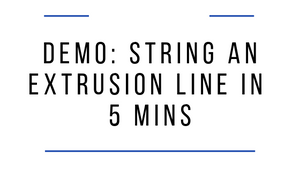 Demo: String a Small Extrusion Line
The extrusion process can sometimes be hard for those outside the industry to understand. It's one of the things that has to be seen to be understood!
We thought it would be helpful to create a simple demonstration of an extrusion line in action. Our video is great to show friends & family and it can also be used as a training tool for your team. 
Using a 1st person point of view, we break the process down & highlight a few key points.
Share and subscribe for more extrusion videos from AMS.
---