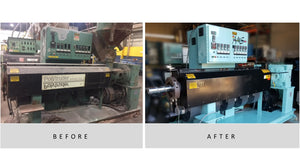 "It is the neglect of timely repair that makes rebuilding necessary." -Richard Whately
Rebuilding quality equipment was how AMS got its start, over 25 years ago. We expanded to designing and manufacturing new equipment for the past 20 years, but still continue to take pride in rebuilding, and sometimes re-engineering equipment, to provide the customer with savings. The strength of certain older gearboxes is still valued today, combined by rebuildig and adding new state of the art controls you are able to get excellent value and durability.
After a complete disassembly a detailed inspection is done. Our used extruders often include; gear box rebuilds, replacement of bearings and seals, barrel and screw repair or replacement, motors and drives matched to your needs, new solid state relays, breakers, wiring, insulation, and painting.  
Pictured above is a recent rebuild of a 3.5" 24:1 Polytruder Plastic Extruder.  This is the first of five Polytruders that we have on our shop floor to be completed.  More specific specifications on the Polytruder can be found by viewing the ebay listing. 
For more information regarding our rebuilding process, or to find out what other equipment we have underway, please give us a call at 561.833.9898. 
---