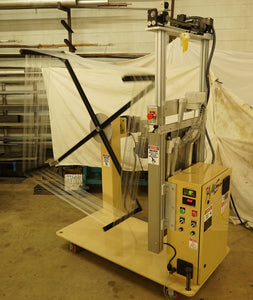 Tensionless Catheter Extrusion Winder!
The AMS Catheter Winder offers medical extruders a tensionless system that offers superior low speed control. The winder arm used a 4-arm spindle instead of spools. This layout also reduces the possibility of the tubing sticking, kinking, or crushing. When the spool is full, you can quickly detach it to allow the extrusion to 'rest' and install a new empty assembly. 
The winder features a light sensor system for touchless tension control. For optimal operation, the traverse height is remote controllable! Simply raise or lower the traverse with the remote for the ideal position. This system is 2nd to none for precision catheter winding. 
Watch the video below for an in-depth walkthrough of the major specs of the winder!
---