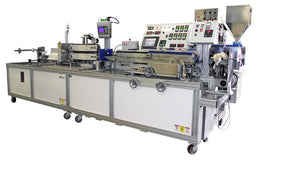 Medical Extrusion Simplified!
The AMS Simplex Extrusion System is designed to meet medical extrusion specifications. The system only requires: 1 power connection, 1 air connection, and the chiller connection! All subassemblies are mounted on a rigid structural aluminum frame, keeping things simple for operators and technicians.
The Simplex Extrusion System can literally hit your floor running with just the three utility connections! The Simplex System can be setup with a wide variety of options to cater to your specific needs: from Precision Vacuum Tanks or water baths, godet stations for filament draw, to tubing or sheet and various extruder sizes, even vertical and tri-extrusion! 
This 1.5" extrusion line was built for a medical equipment manufacturer in Florida. Below is a video of the final product in action!
---