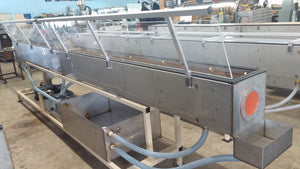 AMS Water Bath Frames now 100% Stainless Steel
Ever have a water bath start to rust after 5-6 years because the frame is steel and just painted over? Of course you have, that's because it's 'industry standard'. At AMS we try to break away from standards and lift the bar. Now all of our water bath frames are 100% stainless steel with no additional charge to you. 
That means these new baths will look good as new 10+ years from now. No more rusty eye sore frames in your factory. In addition, our unique frame design is maintenance friendly and filter changes can be done as the tank runs. – Meaning there is no interruption during production.
AMS Water Baths are engineered to meet specific dimensions and tailored for production requirements.
Tank & reservoir constructed from 12 gauge stainless steel
Accommodate various sizes
Maintenance friendly design
Easy access to filters
---