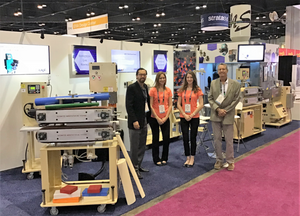 Wrapping up from the NPE2018
We had a great week at the NPE2018 show! It was pleasure to see our industry friends and customers.
Thank you to all who came to our booth and made the show a resounding success!
A special thank you to AZO Materials for publishing a little bit about what we do at AMS.  You can check out the articles by clicking on the links below. 
https://www.azom.com/article.aspx?ArticleID=15845
https://www.azom.com/suppliers.aspx?SupplierID=13678
Also, a huge thank your for those of you who are now entering into the beta test phase for the revolutionary technology that is just around the corner to release.  More information can be found at https://0ixxtge6bq35lc4a-18199823.shopifypreview.com/pages/plasti-block and www.pasticblocks.com. 
---